In Memorium
---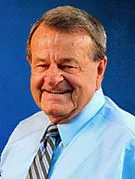 Dr. Deane Mink was born in Huntington, Long Island, New York. He lived there six weeks and didn't like New York, so he moved to Orlando, Florida. He then went to school in Orlando and graduated from high school in Cocoa, Florida in 1952.
Professional Baseball Career & Military

He played six seasons of Professional Baseball with the Brooklyn Dodger Organization and then went into the US Army for two years (serial no. US532211312). Dr. Mink went to Palmer College of Chiropractic in 1957 and graduated in 1961. He came to Valdosta and began his practice here in 1961. The current facility is his fifth location and third one he's built.
On a Personal Note…

Dr. Mink had five children (all girls but four) and was married to Sue who has two daughters. They also have one cat and two dogs, ten grandchildren and two great grandchildren.
---
About Chiropractic and Health

"The power that made the body can heal the body if the healing powers are uninterrupted with spinal misalignments, trashy foods, chemicals (smoke, pesticides, deodorants, perfumes, etc) and/or emotional conflicts. Everybody needs chiropractic care."
– Dr. Deane Mink
Chiropractic Associations

Dr. Mink was a member of the Georgia Chiropractic Association for more than 50 years, having served as it's president in 1973. He was on the Georgia Board of Chiropractic Examiners for 13 years, with seven years as president.
Mink Chiropractic Center was awarded the Valdosta-Lowndes County Chamber of Commerce Small Business of the Year in 1999 and Dr. Mink was awarded Georgia Chiropractor to the year in 2001, the Georgia Chiropractic Association Award in 2011 and the William m. Harris Lifetime Achievement award in 2011.