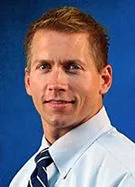 Dr. Ken Register is a native of Adel, Georgia and a graduate of Cook High School. He attended Troy State University for pre-med studies and graduated from Life University of Chiropractic in Marietta, Georgia in September, 1997.
Family Life

Dr. Register is married to Staci and they have four children; Kaid, Kennadi, Kamden and Karis. Dr Register is an active partner at Crosspointe church here in Valdosta. In his down time he enjoys spending time with family, exercising, fishing and hunting.
Dr. Register and Mink Chiropractic

Dr. Register began his practice in Valdosta, Georgia in April, 1998 with Dr. Mink. He began his partnership interest in Mink Chiropractic Center in July, 2000. He is licensed in the state of Georgia and has been a member if the Georgia Chiropractic Association since 1998. He is also a Past President of the Fifth District Georgia Chiropractic Association.
He is currently serving on the Georgia Chiropractic Association's board of directors. He also speaks on various health topics throughout the community and attends seminars each year to help increase his knowledge and better serve his patients.